current update-- 1:33pm Nelson Mandela should be on his way home for treatment.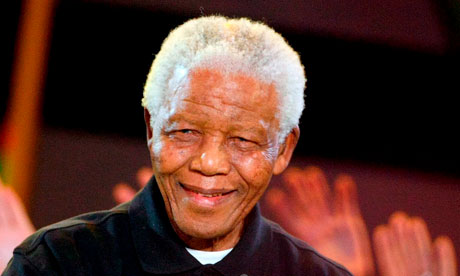 Mandela was admitted to a hospital in Johannesburg yesterday and South African media report that he has been seen by a specialist pulmonologist who treats respiratory disorders.
The 92-year-old's ex-wife, Winnie Madikizela-Mandela, arrived at Milpark hospital this morning and senior members of the governing African National Congress (ANC) are reportedly due to visit.
As scores of journalists and camera crews gathered at the hospital, and speculation grew into a frenzy on Twitter, the ANC appealed for calm and insisted Mandela was not in danger.
na wa...everyone wants a story for their various papers/news
"He is a 92-year-old and will have ailments associated with his age and the fact that he stayed the night should not suggest the worst," a spokesman, Jackson Mthembu, said.
"We urge people not to make unfounded statements. Let's remain calm and not press panic buttons because there is no reason to do so."
He added: "We appeal, particularly to the media fraternity, to refrain from making unfounded and unwarranted speculation in relation to Madiba's [his clan name] health."
The former archbishop of Cape Town, Desmond Tutu, who met Mandela last week, said: "He was all right, I mean, he's 92, you know. And he's frail."
Earlier this month the ANC said it wanted Twitter to take action after a hoax report of Mandela's death was widely distributed on the social network site.
The Nelson Mandela Foundation declined to comment on his health today. Earlier it had said: "We can confirm that Mr Mandela is at Milpark hospital undergoing routine tests. He is in no danger and is in good spirits."
Children at McAuley House primary school, neighbouring the hospital, created "Get well soon" banners and shouted from classroom windows: "Get well Madiba. We love you Madiba."
- copied from guardian.co.uk
I'm currently watching bbc and they are assuring us he'll get better and that the MEDIA should respect Mandela and not spread/cause any rumour to spread.
They also say he has been discharged but currently not at home yet.